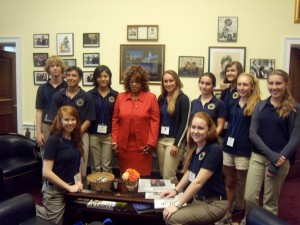 On June 9th, the SCUBAnauts attended the CHOW sessions on energy and it was very interesting. I learned so much more on the oil spill and how it will hurt our economy and our ecosystem. We also learned why we need to help in any possible way to save marine life. We also meet three Representatives of Florida, Congresswoman Corrine Brown (FL-3), Congressman Allen Boyd (FL-2), and Congresswoman Kathy Castor (FL-11). It was such a great experience meeting them and talking about what we do with SCUBAnauts. Also we gave suggestions on how we can help with the oil spill and how to get the word around to kids. It is a couple of moments that I will never forget. Later we visited some of the museums and had a blast, seeing so many exhibits. We also went to see the Washington Monument and the White House. One of the coolest things I have ever seen. This trip is something I will remember for the rest of my life.
– Sofia Alaniz, Tarpon Springs SCUBAnaut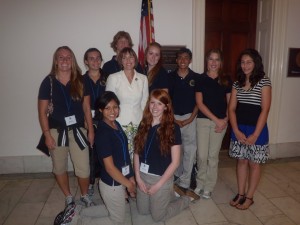 On June 9th, the SCUBAnauts got to attend the Capitol Hill Ocean Week talks. In the morning we went to a talk, and the topic was Today's Energy Mix: Impacts on Ocean and Coastal Resources. It was especially intriguing because of the recent events in the Gulf of Mexico, the Deep Sea Horizon Oil Spill. We also meet with three Representatives from Florida: Congresswoman Corrine Brown, Congressman Allen Boyd, and Congresswoman Kathy Castor. We had the opportunity to discuss our opinions on important issues, and ask what they were doing to help ocean preservation. We later visited the Natural History Museum as well as the American History Museum. It was very educational and exciting.
-Brooke Liston, Tarpon Springs SCUBAnaut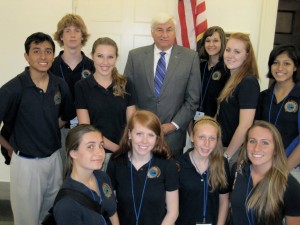 On Wednesday, June 9th, we woke up bright and early- we had an important day in front of us. After navigating our way through the basement of Congress, we met with Florida Representative Corrine Brown. She told us about her efforts to create a high-speed train connecting many of Florida's major cities, bringing us up to the standards set by the more efficient, environmentally sound modes of travel used in Europe, for example. She then let us sit in on a BP hearing where we heard speeches made by many important men and women about the oil spill, which was heartbreaking to hear. We also met with Representatives Allen Boyd and Kathy Castor, who listened to our stories and suggestions and answered our questions about our futures and the future of our environment. Representative Kathy Castor's district is very close to where we are so she was especially interested in our work. It was a very exciting, empowering day. It was great that we got to have our say and actually have people in power listen to our concerns about our futures.