SCUBAnauts Beginnings
The SCUBAnauts International™ marine science education program (previously SCUBA Scouts USA) was founded by Captain David Olson in Palm Harbor, Florida, in May of 2001, in an effort to introduce young men and women, ages 12-18, to informal science education through underwater exploration. 
SCUBAnauts History
SCUBAnauts began with six dedicated teenagers (Andrew, Brynn, Jennifer, Julie, Ryan, and Alex), each of whom were certified in Basic Open Water SCUBA by YMCA SCUBA Instructor Jeff Paine in May 2001. The scientific rather than recreational nature of this group quickly gave SCUBAnauts its own identity.
As part of Captain Olson's quest for these SCUBAnauts to use SCUBA as a means to learn about the marine environment, several local marine research scientists were contacted. Olson's search led to the esteemed , Walter Jaap, of the Florida Fish & Wildlife Research Institute (FWRI), located in St. Petersburg, Florida.  Walter embraced the SCUBAnauts program and developed its first major research project with Gulfstream Natural Gas Systems (GNGS) in 2001. Gulfstream Natural Gas, a Houston-based company, established artificial reefs in Tampa Bay and Gulf of Mexico to mitigate habitat lost during the construction a major underwater natural gas pipeline.
Coral colonies, sponges, and other benthic (bottom dwelling) organisms were salvaged and relocated from areas impacted by the pipeline construction and reattached to 5,000 tons of Florida limestone boulders covering six mitigation sites located in and about Tampa Bay. SCUBAnauts were responsible for the long-term monitoring of these sites, recording sizes of the transplanted species, and the new life growth on the artificial reefs. This initial project gave SCUBAnauts credibility in the St. Petersburg marine science community allowing SCUBAnauts research aid to grow with the addition of scientists from the United States Geological Survey (USGS), and University of South Florida (USF).
In 2006 as SCUBAnauts continued to increase in numbers, a Dive Control Board was established to oversee and ensure that all SCUBA diving missions complied with the American Academy of Underwater Sciences' (AAUS) research diving standards and practices. The dive control board is comprised of volunteer dive safety experts from government, educational and private agencies and institutions. 
In May 2007, NASA awarded a three year federal grant ($341,000) to SCUBAnauts International to facilitate continued research and promote direct interaction with scientists. SCUBAnauts International began working with the Global Learning and Observations to Benefit the Environment (GLOBE) organization to support the exchange of their data to a global audience of scientists, teachers, and students.
In October, 2007, SNI and Wild Life Productions, in partnership with the Explorer's Club, the Hawaii Undersea Research Laboratory (HURL), NOAA, NASA, GLOBE, University of Hawaii at Manoa (SOEST), the Florida Fish and Wildlife Conservation Commission (FWC), U.S. Navy and U.S. Air Force, commenced a 3-phase expedition named Operation: Deep Climb (ODC). The mission of ODC was to inspire a new generation of 21st Century explorers and promote a better scientific understanding of the universe and marine environment while achieving a genuine "first" for youth exploration.
SCUBAnauts International, America's next generation of explorers, embarked on a 10-day expedition to Hawaii involving a 1,800-ft descent in a Pisces deep sea submersible that included the exploration of a Japanese midget submarine, the first vessel sunk on December 7, 1941, a mountain climb of 13,786 feet to the summit of the tallest mountain on earth "from base to peak," Mauna Kea, and the unfurling of the ODC mission banner on the Space Shuttle, Endeavor (STS-123) , by mission commander, Dominic Gorie, in March 2008.
This work has taken us many places. Beginning in 2003, SCUBAnauts have spent their summers away from the Tampa Bay area allowing youth members to explore regions like the Florida Keys (2003, 2004, 2007-2018,), the Bahamas (2006, 2008), Hawai'i (2007) Jamaica (2008), and Belize (2009, 2011). These summer expeditions continue to give nauts one-on-one interaction with state and government researchers to complete science projects amidst challenging dive schedules.
SCUBAnauts Today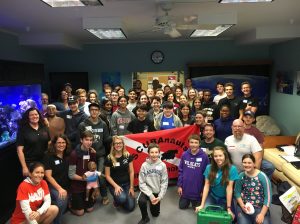 Locally, SCUBAnauts International has grown considerably from the original six Nauts of 2001 and later, the single chapter in Tarpon Springs (Est. 2008), to three other chapters in the Tampa Bay area: St. Petersburg (Est. 2010),  Tampa (Est. 2014), and Sarasota (Est. 2017), but the close proximity of chapters gives the opportunity for close collaboration with local science and dive professionals.
SCUBAnauts looks forward to increasing the opportunity for young explorers and leaders of tomorrow, continuing to establish new chapters nationwide and internationally.