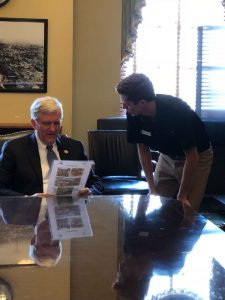 by Zack M., SCUBAnaut 1st Class
This summer, I had the opportunity with 15 other SCUBAnauts to attend Capitol Hill Ocean Week (CHOW), the most important marine policy convention in the United States, located in Washington, D.C. The event focuses on marine, coastal, and Great Lakes environmental policy with a focus on scientifically-backed public policy. SCUBAnauts International (SNI) attends CHOW to lobby for more proactive environmental protection in regulations regarding Florida's coastline and ecosystems; the economy which relies on coastal systems; and progressive growth in the protection of key environments. Nauts had the opportunity to meet with their elected representatives in addition to significant policy makers and scientists in the environmental realm.
CHOW focused heavily this year on the increasing amount of pollution in the oceans and navigable waterways in addition to the current and future effects of climate change. The scientific panels addressing marine pollution were some of the most interesting discussions to witness because of the economic reliance Florida has on its many beaches and marine environments for tourism. The message which most clearly resonated with me is that marine pollution has become a rising issue for all countries with significant exposure to economic activities including but not limited to: tourism, commercial/recreational fishing, shipping and other commercial uses. With respect to the previous statement, the elected officials who met with SCUBAnauts International all expressed concern over the growing amount of visible and non-visible, or micro-plastic, waste in the ocean. During the trip we also were given the opportunity to attend various panels; the most interesting discussions were on the effects of relative sea level rise in areas such as Louisiana, the die-off of corals from Miami to the Florida Keys due to an unknown bacterial disease and the global effects of ocean acidification.
Throughout this trip, the most interesting part for me was meeting with elected officials from Florida and other coastal states. SNI met with Florida Senator Marco Rubio, Representative Kathy Castor, Senator Sheldon Whitehouse of Rhode Island and Senator Bill Nelson's office. We also spoke to Representatives Daniel Webster (pictured above with Zack explaining our artificial reef ball surveys off Hernando County's coast), Charlie Crist, and Gus Bilirakis. The greatest takeaway from these meetings is the importance of youth in future public policy making and the impact young people can have as constituents. As always, Capitol Hill Ocean Week was a blast, and I look forward to the possible opportunity to attend and learn more next year.