Today was our travel day, and it was long and difficult. We started off by driving from Tampa Bay to Fort Lauderdale overnight, with several of the parents driving vans and cars loaded with gear, luggage and kids. It was definitely an all-nighter for those parents and some of the kids who spend the night talking instead of sleeping!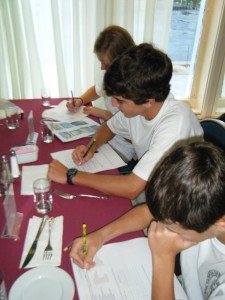 Ashley, Connor, and Kaedon taking their pre-trip assessment tests
on their cruise to Grand Bahama.
 
We got to Fort Lauderdale at 4:30 am and ate breakfast at a Denny's before heading to Port Everglades. We had chosen to take a small cruise ship over to Grand Bahama instead of flying due to cost and because we wanted to fit in a few more dives on our last day. All of our divers know that you can't go diving 24 hours before a flight, so we would've had to cut out afternoon dives on our last day. Taking the cruise ship got around those problems, but we ran into a few more challenges…
As we are all well aware of now, any kids under the age of 18 who are traveling out of the country need written consent from their parents. Unfortunately, none of our parent-less travelers had those specific forms. So a mad dash ensued with the 'nauts frantically calling their parents at 7 am trying to get them to fax or email over proof that would allow us all to travel as a group. A few tense minutes passed, but we finally got everyone on-board the ship.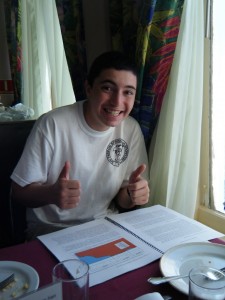 Alex getting excited about the field guide to the Bahamas!
As we all breathed a sigh of relief and enjoyed the breakfast buffet (breakfast number 2 for the day if you were counting), the 'nauts got to work on their pre-assessment tests. Carlie, the Education Officer, and I use these tests to see how much the 'nauts already know about various topics, including chemistry, biology, geology, history, geography, and dive skills. As we go through our week, the kids will be learning more and more about each of these topics, and they'll get a post-assessment test to see how much more they know after our science expedition.
The cruise lasted about three hours, and we were all happy to finally reach the hotel. This is different from any other SNI summer trip because we're staying in an all-inclusive resort. It's very nice that our meals are cooked for us and that we don't have to provide a lot of the basics. But we're not here on vacation – this is a science expedition! The kids are expected to attend science lessons every night, write in their journals, and prepare for each day.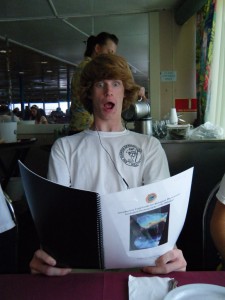 Colin stunned by the new things he has learned from
the field guide.
Today presented a lot of challenges, a lot of "hurry up and wait" moments, and some exasperation. But we all made it to the Bahamas in one piece, we have a gorgeous view of the ocean, and our dives are all lined up for tomorrow – the first real day of science. Can't wait to see what the rest of the week holds!
-Julie Galkiewicz
Chief Scientist, SNI Tarpon Springs