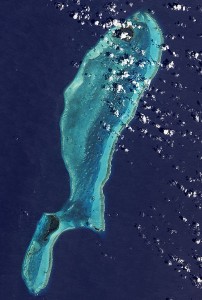 The first dive today was at a world famous dive spot – Blue Hole at Lighthouse Reef Atoll (seen in NASA satellite image to left). It's an amazing geologic feature – a 400 foot deep hole in the lagoon of the atoll which averages about 40 feet deep. Diving the Blue Hole in Belize is like seeing the pyramids in Egypt. You've just got to do it if you're there!
But to get there required an hour and a half boat ride through 6-8 foot seas. Even with an expert captain, this meant a lot of big ups and downs as
we rode over the waves, and a few hard knocks if the boat landed a bit crooked. This affected people in two ways: 1) seasickness – as a person with a lot of first hand knowledge about this, I prepared for the trip by taking Dramamine and sat in the back where the wave motion wasn't quite as extreme. And 2) soreness – bouncing up and down, side to side, over and over again for 1.5 hours can make anyone sore. And if you're sitting on a hard seat, going airborne over particularly large waves can lead to a hard landing.
After a quick stop at Half Moon Caye to check in, we ran the last bit over to Blue Hole. Unfortunately for us, the legendary great visibility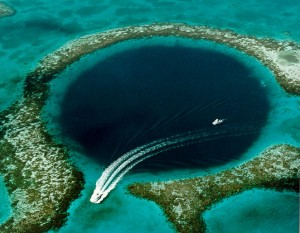 was significantly lower because of Tropical Depression Alex who had just blown through. But at 90 feet deep, we were able to see the strange wall formations just fine. The hole is absolutely covered in algae, cascading down the sides. It almost looks like a stationary green waterfall. In a few crevices we could see some hardy lobster. Not sure how they plan on getting out of the hole! And there were a few corals as well. Fish were few and far between, although we did see two reef sharks at the beginning of the dive.
The second dive was another science dive – two groups of 'nauts did REEF fish surveys, while the third group worked on coral measurements and identification (the AGRRA belt transect). The coral group is having a hard time finishing their transects in time because there are so many types of coral! Of course, it's always awesome to see lots of coral, but it sure is faster to do this survey back home in Florida.
Our final dive of the day was a night dive, on the same 30 foot reef we've visited twice before (Bev's Garden). But as familiar as the reef may be, it's always different at night. Every diver was marked with a glowstick on their tank, just to give a location. And every diver had a dive light to help them explore the reef. It's always reassuring to have a dive light with you, but sometimes its nice to swim around without it on. That way you get to see what everyone else is doing, and you don't have to worry about plankton swarming around your light.
We saw many of the same creatures we've seen previously on the reef, just acting differently. There were parrotfish asleep in crevices, squirrelfish out and about, and corals with polyps extended to feed. But there were also a lot of new creatures! I saw a baby squid, who accidently ran into my dive light and was so alarmed that he inked. We saw basket stars on top of coral heads, and lots of biolumnescent plankton.
So even with only three dives, we accomplished a lot today, and definitely can't wait for bed.
~Julie Galkiewicz, Education Office, SNI Tarpon Springs Chapter
The Blue Hole was big and basically empty. We saw a shark (unable to tell what type because it was too far) and a sea turtle, but basically that was it. The algae growing on the sides wasn't too interesting and to be honest, everything else was just dark blue nothing. It wasn't a total bust, though. The reef that formed [circling the Blue Hole] about 30 feet down and went towards the surface (literally like within 2 feet of the surface) was pretty nice. It reminded me of Bev's garden, another site we've been diving on here in Blieze, being that a lot of the coral and fish that I noticed were in both locations and both are shallow reefs connected to long drop-offs.
~Connor Waugh, Tarpon Springs SCUBAnaut