19 SCUBAnauts and 9 adult leaders were in the Florida Keys for our annual summer trip with Mote Marine Laboratory & Aquarium and Combat Wounded Veterans' Challenge. Below are updates, including daily posts from our nauts themselves!
7/17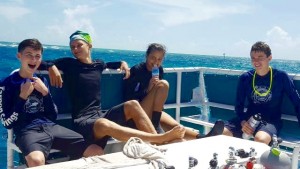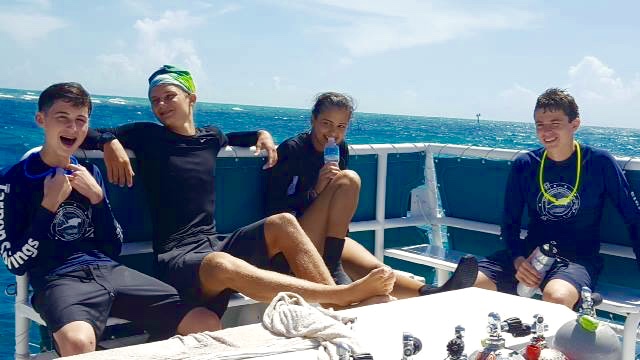 Today, members of SCUBAnauts International practiced effectively using dive skills and buoyancy control to prepare for out-planting corals from Mote Marine Laboratory & Aquarium in the Florida Keys later this week. In addition to this, Nauts practiced fish identification with more experienced members mentoring newer ones. Two awesome dives in 4ft seas with everyone home safe!
—————————————————————————————————————– 7/18
The SCUBAnauts have been keeping busy here in the Florida Keys! Today, one group of 'nauts travelled to Key West Naval Air Station Trumbo Point where they participated in a navigation course with Combat
Wounded Veteran Challenge (Official). Their task was to navigate to a dive sign on the shoreline, alongside their assigned Vet.
Meanwhile, a second group of 'nauts spend the day with Dr. Vaughn at Mote Marine Lab Center for Tropical Research. They received a behind the scenes tour and spoke of coral restoration methods.
BUT WAIT, THERE'S MORE! With all the hustle and bustle, we even had time to get down and dirty with plankton, thanks to our very own Doctor Carlie!
—————————————————————————————————————– 7/19
Today, SCUBAnauts learned a new research method! They helped  monitor coral bleaching by completing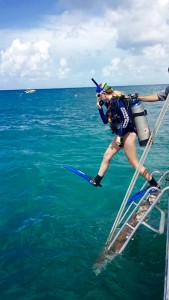 numerous FL Keys BleachWatch Surveys. Many of the corals at the two sites in Looe Key National Marine Sanctuary were safe and healthy, but some exhibited signs of paling and bleaching. Additionally, palythoa (a Zoanthid, similar to anemones) was paling, which is a warning sign for future coral bleaching.
Meanwhile, another group of 'Nauts used the REEF Reef Environmental Education Foundation Fish Surveys to collect data on fish diversity and abundance. Some of the highlights of the fish survey included the four-eyed butterflyfish and the goliath grouper pictured here.
—————————————————————————————————————–  7/20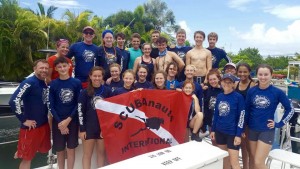 Today SCUBAnauts dove at Looe Key National Marine Sanctuary again and continued with their FL Keys BleachWatch REEF Reef Environmental Education Foundation surveys. This data is essential for scientists around the globe and helps with Mote Marine Laboratory & Aquarium coral outplant projects and understanding fish diversity. There was an excellent amount of  fish today, we saw so many interesting things including a shark and a stingray!
—————————————————————————————————————– 7/21
Today, the SCUBAnauts visited Mote Marine Lab Center for Tropical Research and worked with Eric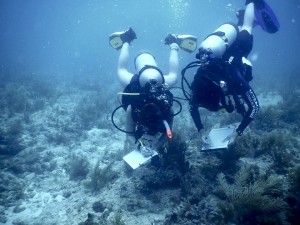 Bartels and his staff outplanting Staghorn corals. We ended up doing a total of 3 dives and out-planted a total of 500 Staghorn corals! We also completed coral health monitoring surveys on Staghorn corals that we had out-planted over the last two years.
For our last dive of the day, we got a group photo and had the most amazing underwater dance party you could ever imagine!!!
**** This expedition was made possible because of our dedicated adult leaders that volunteer their free time and are the driving force behind these trips. So I ask you to please join me in THANKING them for their amazing and tireless contributions to create another safe, successful SNI trip***