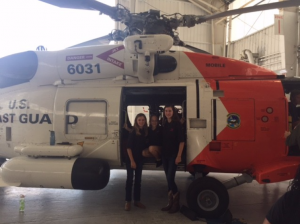 On May 14, 2017, the USCG Air Station welcomed SCUBAnauts to tour their facility in St. Petersburg, Florida. The C-130 is a cargo plane. They are able to transport people, vehicles, supplies, and other cargo on the aircraft. On air drop missions, they drop the cargo in specific locations. This aircraft can carry more than 40,000 pounds of cargo and supplies. One time they transported an empty fuel truck to the Bahamas.
The Black Hawks are able to transport cargo and people too. The Black Hawk has a hook underneath the aircraft to attach supplies. For rescue missions, it has a basket that connects to the hook and can transport the people from the water, an island and other dangerous situations.
This whole experience was exciting. I had a lot of fun going inside the aircraft and learning about what each aircraft does.
-Payton S.