From New SCUBAnaut to Senior
I am a senior SCUBAnaut who went on the summer trip to the Texas Flower Gardens. This trip was also probably my last trip and dives with the program as I am aging out of it and am moving up to Gainesville for college at the University of Florida. I joined the program in ninth grade and have been in it for around four to five years. Over this time I have done over 70 dives and over half of them have come from 3 summer trips, I could have done a fourth but chose not to go on a trip my first year. I have only written one other blog, and that was for my first dive in the program, so it seems fitting that I write one for my last dive as a SCUBAnaut. Through all of my time in the program I have had lots of fun.
Developing Dive Skills
Over this time I have developed my dive skills from nothing and have now become a decent diver. Almost all of the dives I have done were either training or science dives. I have developed good dive skills because we work some on them in training, but also because we have to do a lot of multitasking with the science dives. On a science dive we normally work with writing down information on slates, so we need good buoyancy control and trim to stay in one place as we collect data. I have also developed my dive skills because I have had much more experience in diving by doing a lot of dives than I would have if I did not join the program, and many Scubanauts have done more dives then me having even more experience.
An Engineer with Touch of Science
Even though I plan on majoring in engineering, so far mechanical engineering, I have always had an interest in science. I went to almost all of the dry meetings I could and enjoyed the science there. When I first entered the program I had thoughts about being a marine biologist, so I have always been interested in the science with diving and outside of the dives. From my engineering program at school I have found that I also like engineering and have chosen to go more towards that area, but I have discovered that I love diving through this program. I got dive certified to join and have been diving ever since. I hope to find some way to continue diving while at college.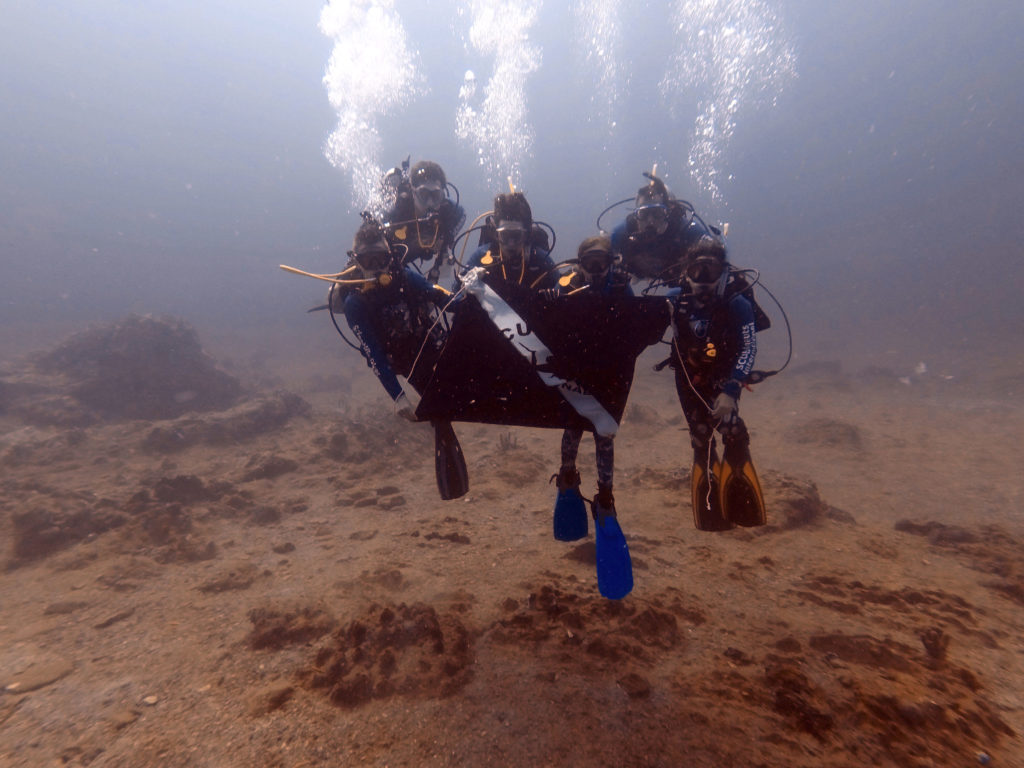 The SCUBAnauts unfurl their flag for a quick underwater snapshot.