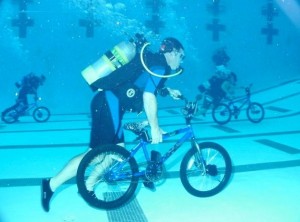 The
SCUBAnauts
spent their Sunday participating in the fun-filled SCUBA Olympics, a community event benefiting the special needs swimmers of the Adaptive Swim Team. The Tarpon Springs and St. Petersburg Nauts competed in several judged events including an underwater bicycle race, buddy tow, balloon lift, raft race, and tug-o-war.
Jessica Silk, a SCUBAnaut of the St. Petersburg chapter, describes scuba diving as "one of the biggest rushes anyone can experience, yet scuba diving while riding a bike to raise money for a well-deserving team was an even bigger rush." Jessica was thrilled at the opportunity to participate, and personally loved the raft race, bike race, tug-o- war, and watching the Adaptive Swim Team complete a race of their own. Despite the soreness from practice, Ashley feels that her participation in the SCUBA Olympics was worth any pain, and the event made her realize that "a goal is something worth working for, even if you do not receive a gold medal in the end." Ashley looks forward to getting back on the bike next year!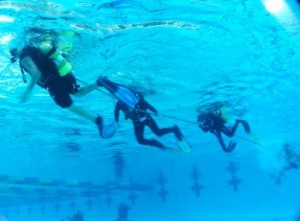 Bob Silk, St. Petersburg chapter president, described the event as "well organized and professionally yet courteously run." He noted that the event was well received by all, and that everyone in attendance was having a grand ole time whether in the water or out.
Ashley Hilbert, a Tarpon Springs SCUBAnaut, described the event as an "overall great day." She was happy to be able to bond and team up with fellow Nauts Conner Hutchisson and Danny Alaniz, as well as with her father, Bryan, while raising money for a good cause. Ashley participated in all events and was excited to bring home a silver medal in the tug-o-war, and a bronze medal in the balloon lift.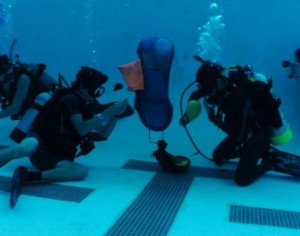 Ben Prueitt, the St. Petersburg chapter's Assistant Unit Diving Coordinator and a SCUBAnaut alumnus, also had a memorable time at the SCUBA Olympics. He is proud to have received a bronze medal in the tug-o-war, and a gold medal in the buddy tow with his partner Mary. Ben loved that at the SCUBA Olympics he was able to be immersed in the diving community with others who love the sport, while also "raising funds for the disabled persons who have chosen to stay active despite their disabilities."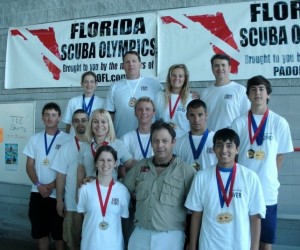 Many members of the SCUBAnauts team received medals for their outstanding performance in the various events, and their participation helped contribute to the $1,600 raised for the Adaptive Swim Team. Ben Prueitt, Mary Silk, Jessica Silk, Sebastian DiGeronimo, Ashley Hilbert, Danny Alaniz, Conner Hutchisson, Bob Silk, Jim Cassick, and Bryan Hilbert represented the SCUBAnauts well. A special thank you goes out to the Naut's sponsor, PADO, an organization of professional dive operators started by Captain Joyce Hannaseck.
-Julienne Brown