Our second day on the island and our first day of diving!
Everyone went to bed really early last night after our looooong day of traveling. So we were all ready for breakfast at 7 am. Everyone, especially the teen-aged boys with endless appetites, is enjoying the buffet food. After eating bacon, french toast, cereal and fruit, we all headed over to the dive shop.
Because we're such a large group (20 divers!), we've basically taken over the dive boat for our three days of diving. We're doing two dives every morning and afternoon on different reef. The dive boat here is so nice for large groups – there's plenty of space for all our gear and the science equipment we bring on board too. I'm sure we got some funny looks from people as we were loading up.
Colin using the whirling hygrometer to figure out how humid the air is. This is only one of many pieces of science gear we brought with us.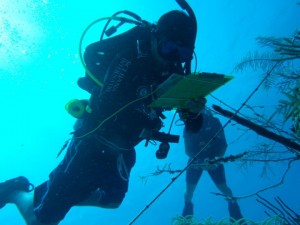 Our first dive was a simple observation dive, to familiarize everyone with the reef. The 'nauts got to see how different these tropical Bahamian reefs are from our typical reefs in Tarpon Springs. They were all amazed at the depth (more than 60 feet), the number and types of fish, and the strange new corals.
Our second dive was to a shallower site so we could start doing our scientific surveys. Each of the buddy teams was assigned to a survey (fish, coral, or point count) for the day. The Science leaders wanted to make sure that each 'naut had a chance to do the same survey a few times in a row to really understand how it works. Tomorrow the 'nauts will switch to new survey method and work on that all day.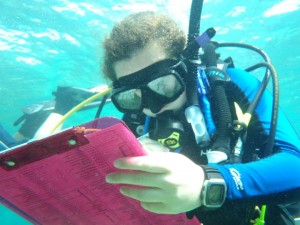 I think the favorite dive of the group so far was our third dive of the day, visiting Shark Alley. This spot is where a lot of dive boat operators come to show tourists sharks. I was very glad to hear that the Viva Wyndham dive crew doesn't chum the waters to get more sharks to the area – chumming is a bad idea because it teaches sharks to associate swimmers with food. We were able to see lots of Caribbean reef sharks just cruising by. They barely noticed we were there, but we all got to see them up close!
Our final dive for the day was on a very shallow site – my dive computer turned off a few times because it assumed I had surfaced and finished my dive. This site had a lot of large corals including a big stand of Elkhorn, a very rare coral.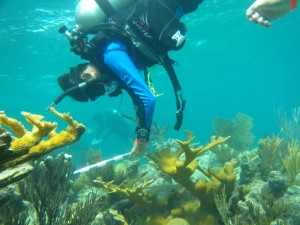 To wrap up the day, our evening science lesson focused on reflecting about what we learned today. Everyone got a chance to share three things they saw underwater that they already knew and three things that were new to them. It was great to hear that some of the fish and corals they saw on the first dive that they didn't know were easily identifiable by the end of the day. The 'nauts also got to share advice about their challenges learning the new survey techniques.
Cross your fingers for us that Tropical Storm Emily stays away for the rest of the week!
-Julie Galkiewicz
Chief Scientist, Tarpon Springs Chapter