Sci-Diver Training at Lake Denton 2019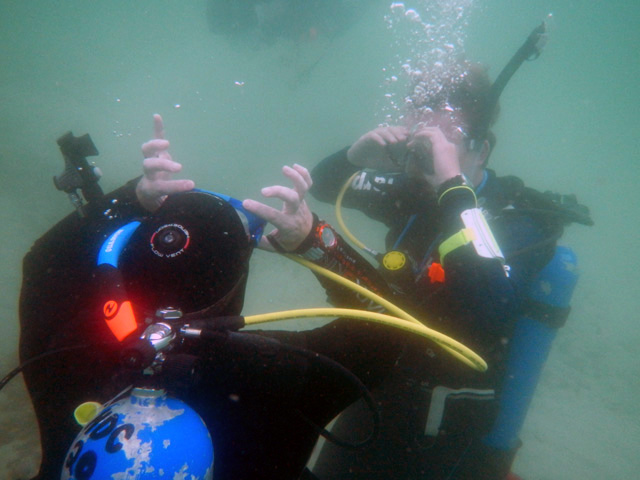 Safety First with Sci-Diver Training
SCUBAnauts practice safety above all else. This weekend in April was no exception as the Nauts practiced safety skills at the Long Center in Clearwater for day one of training and at Lake Denton for the open water portion of the dive safety practice and review. Braydan E. explains the process.
Sci-Diver Training Not Just for New Divers
The Sci Diver course is a benefit to all new or experienced divers. The course goes over basic skills of diving that are very useful to know but are not practiced regularly while diving. These skills can range from mask replacement (if it were to come off while in the water) to lost regulator recovery and air sharing exercises. The instructors also did more rescue-related training, like what to do with an unconscious diver and how to get him back to the surface safely. I found it interesting to learn how to give rescue breaths to a diver while on the surface of the water without dunking him!
Training on Land and Sea
Some of these skills could sound difficult or confusing, but the instructors demonstrated the activities themselves in the water before asking Nauts to do them And we reviewed everything in depth on the surface of the water before submerging. For some of the more difficult tasks, we reviewed on land before entering the lake. For example, we completed navigation training on land to become comfortable with a compass before trying it in the water. Some of the skills, like the frog kick, were not part of the formal training but an opportunity to learn from more experience divers.
Stations of Dive Skills
Considering the amount of training we completed, the day was very organized and activities were planned very well. We completed three dives, divided into different stations with different instructors for each. Some of the skills were duplicated at stations, but with different instructors we learned alternative methods that may work better for one individual than another. In the end, it was a long day that somehow seemed to go by to quickly. The Sci diver course may sound worrying. Or that it would be hard to do all these skills. But one shouldn't worry. With focus and listening to the great group of leaders and instructors, anyone would be fine and a better diver when finished.