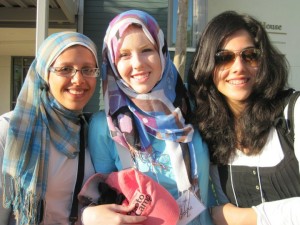 Thirty high school students from the Greater Middle Eastern and Western countries participated in Ocean for Life (OFL), a program to increase cultural understanding through ocean science, from July 14-26, 2011. The students studied at NOAA's Channel Islands National Marine Sanctuary in California. The Ocean for Life program is a partnership among the National Oceanic and Atmospheric Administration's Office of National Marine Santuaries, SCUBAnauts International, the Global Learning and Observations to Benefit the Environment (GLOBE) Program, and the National Marine Sanctuary Foundation.
The themes of Ocean for Life are: a sense of place, interconnectedness, and ocean conservation and stewardship.
Sense of Place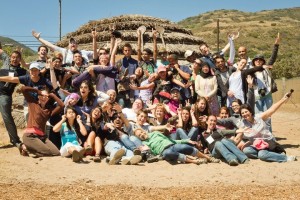 Photo: Jim Webb, National Geographic Photo Camp OFL 2011
We visited the Chumash Discovery Village where we met the people and learned about the culture and ways of the first people of the Channel Islands – the Chumash. They taught us a few of their native songs and words in their language. They told us how their people relied on the ocean's resources for food, supplies, and money.
Brooke Liston, a Tarpon Springs SCUBAnaut and participant of the 2011 OFL Program, investigating the touch tanks at the REEF Facility at University of California at Santa Barbara (UCSB).
We also learned about the animals that inhabit the Channel Islands National Marine Sanctuary. We camped for three nights at the University of California Reserve Field Station on Santa Cruz Island and kayaked and snorkeled through the breathtaking kelp forests. It was amazing how the field station was surrounded by the natural beauty of the island. It also was amazing to see so many stars at night. It is the epitome of how beautiful the world can be when humans are respectful and use moderation. It was wonderful to get away from the busy and frantic mainland and to connect with nature and yourself.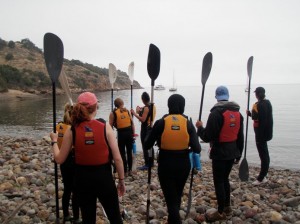 Interconnectedness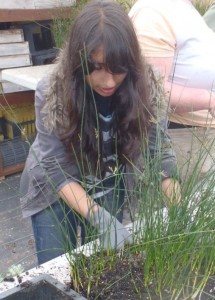 Native plant restoration on Santa Cruz Island
We learned that we are all connected by the ocean and that all of our actions affect the ocean. Even if someone littered in Michigan, it could be carried to the Gulf of Mexico, across the Atlantic, and delivered to the Mediterranean, affecting people in Lebanon. We also learned how the land and water are interconnected. The plants and the animals living on Santa Cruz island are dependent on a clean water supply and, in turn, a healthy native plant population is important for keeping the water clean. While staying on Santa Cruz Island, we had the opportunity to work with Growing Solutions on native plant restoration.
Ocean Conservation and Stewardship
Ocean for Life has a huge focus on ocean stewardship. During the program, we had two beach cleanups. One of them was with a group of local fourth graders and we taught them about the importance of keeping the ocean clean. All of us are going to plan ways to educate people about the ocean in our respective communities. We learned a lot about problems related to carbon dioxide (CO2), in particular ocean acidification.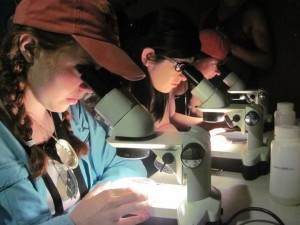 OFL students learn about the effects of ocean acidification on marine organisms at the Marine Science Institute at UCSB
OFL students measure nitrates at Hendry's Beach, CA
We also collected a lot of GLOBE data. This was a treat for me because I have collected tons of GLOBE data with SCUBAnauts International. I had the chance to compare the data from the Florida Keys National Marine Sanctuary with the data from the Channel Islands National Marine Sanctuary. We also compared our GLOBE data with GLOBE data collected in Bahrain.
The Ocean for Life Experience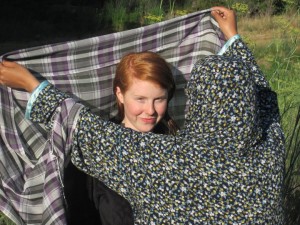 Brooke learning how to put on and wear a hijab
Photo: Ibrahim Al-Sulaiti, Qatar, Ocean for Life 2011
During the program, we took thousands of pictures to collect and put into our Media Projects. We were assisted by National Geographic photographers and American University film students who taught us how to make photographs and not just take them. My group's project was Cultural Understanding. It was perfect for my group because we were so ethnically diverse. We came from Egypt, Lebanon, Qatar, American Samoa, and the United States. Overall, the 2011 Ocean for Life project brought together 12 Western students from Canada, the United States and American Samoa with 13 students from the Greater Middle East representing Bahrain, Egypt, Kuwait, Lebanon, Pakistan, and Qatar. It was great to have so many cultures giving us the chance to understand and immerse ourselves into each others' cultures. My roommate and fellow group member, Amira from Egypt, taught me how to put on a hijab. It was an amazing experience.
Ocean for Life was a moving experience for me. I learned a lot about the ocean, other cultures and myself. We were scared that we would not be accepted by people from other cultures, however we were so wrong. We grew very close to one another and left with many new sisters and brothers who share a lover for each other and the ocean. It is now our mission to teach people ocean stewardship and cultural understanding.
~Brooke Liston, Tarpon Springs SCUBAnaut and 2011 OFL participant
Thanks to all of the 2011 sponsors/donors that made this program possible including the Qatar Foundation International, WAFRA Investment Advisory Group, Inc., The Ettinger Foundation, Ellmar Foundation and One World One Ocean.
For more information on the 2011 Ocean for Life Program and Experience, check out the following links:
National Geographic Photo Camp – 2011 Ocean for Life