June 14, 2015
CHOW 2015 was amazing! All of our preparation payed off we had great presentation, great questions and background knowledge on policies happening in Washington DC. The Representatives, Senators and organizations all made us feel welcome.
          Day 1  We had a quick start our first meeting was with US Fish and Wildlife Service. Zac gave an overall presentation on SNI followed by Cole's Coral Project and my Ocean Acidification Research. USFW spoke to us about Blue Carbon which currently is having a effect on Mangrove die offs, which will have a devastating effect on coastal marine environments. We also discussed educating citizens on proper anchoring to help reduce coral reef damage.
          Day 2 was filled with excitement our first appointment was with Ocean Conservancy. I had the privilege to meet Ryan Ono who posted SNI on the Ocean Conservancy blog "It Doesn't Need to be Earth Day to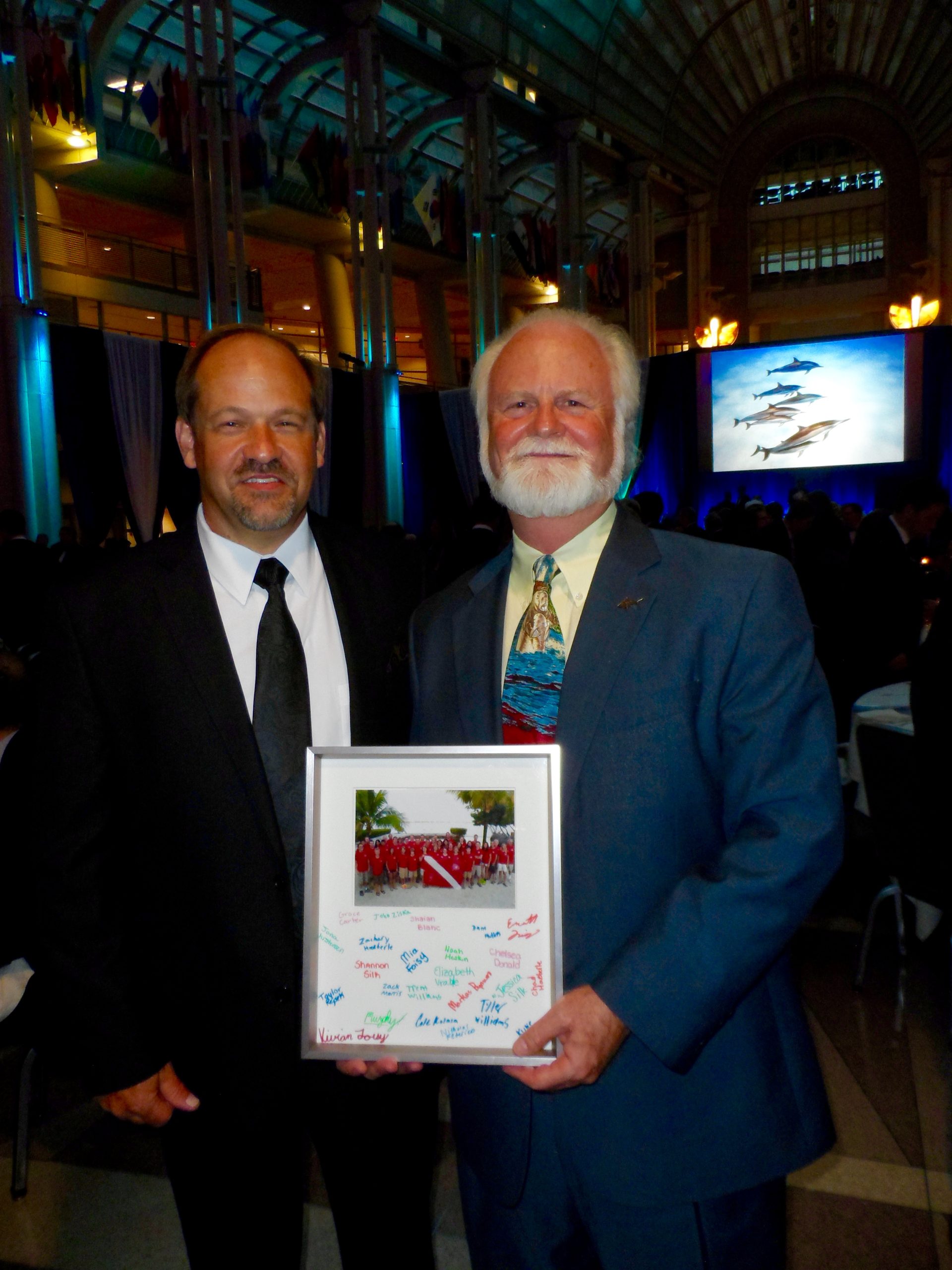 Help Our Oceans" he explained our coral restoration project with MOTE. Ryan is on the Ocean Acidification team in Washington DC, we have the same passion to bring Ocean Acidification awareness to the public. Several other members of the Ocean Conservancy discussed their roles in the organization like lobbying for ocean causes, campaigns to educate the public on ocean conservation and internships. I plan to follow a current bill in the "H.R. 2553 Coastal Communities Ocean Acidification Act of 2015". We also shred our SNI mission, Cole's Coral Project and my Ocean Acidification Research. The next stop was National Geographic where we discussed our roles in SNI and personal research projects while sitting around the same table National Geographic founders used, to think great minds like Alexander Graham Bell, Gardiner Hubbard an other sat around was an honor. That evening we attended the 13th Annual Ocean Awards Gala. Brian Skerry a National Geographic Photographer was the master of ceremonies, who also had several pieces of his work displayed I purchased a signed addition of his book Ocean Soul. President and Mrs. George W. Bush received a Leadership Award for their work on ocean conservancy. The most memorable parts of the Gala was speaking to Dr. Sylvia Earle "Her Deepness" and Dr. Crosby (pictured left) from MOTE.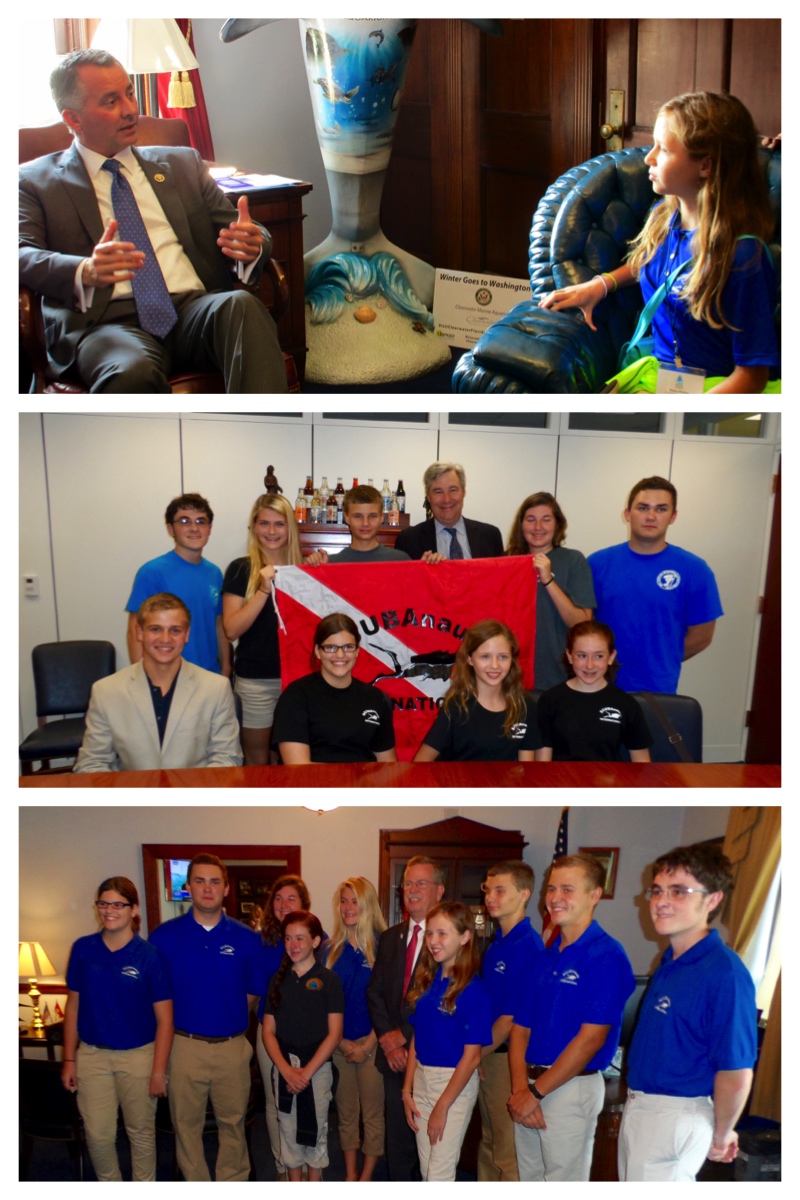 Day 3 Off to Capital Hill to speak with one of Florida's Representatives Richard Nugent. We spoke about SNI and how we work with the Combat Wounded Vets in the Keys doing coral restoration. Rep. Nugent told us about his three sons and their military positions, one of his sons flies a Blackhawk Helicopter. Our second meeting was with Senator Bill Nelson office with his Assistant Abby. She was very impressed with our coral restoration work. Abby also spoke about Senator Nelson's interests in oceanpolicies. Following that meeting we attended a conference about energy and the effect of the oceans. Our next meeting was with Representative David Jolly he has a dolphin statue in his office that I seen at an event in Clearwater, that was pretty cool. We spoke about a bill H.R.2578 that has many parts, but does have ocean policies within it. I plan to follow that bill to see if it gets passed.
Day 4  Off to NOAA one of my favorite government offices to visit, Dr. Chris Moses and Dr. Beth Moses introduced us to part of NOAA's team, a Marine Biologist, Marine Ecologist and Coastal Monitors spoke to us about their positions. I learned a lot during that meeting and was also given several books to read.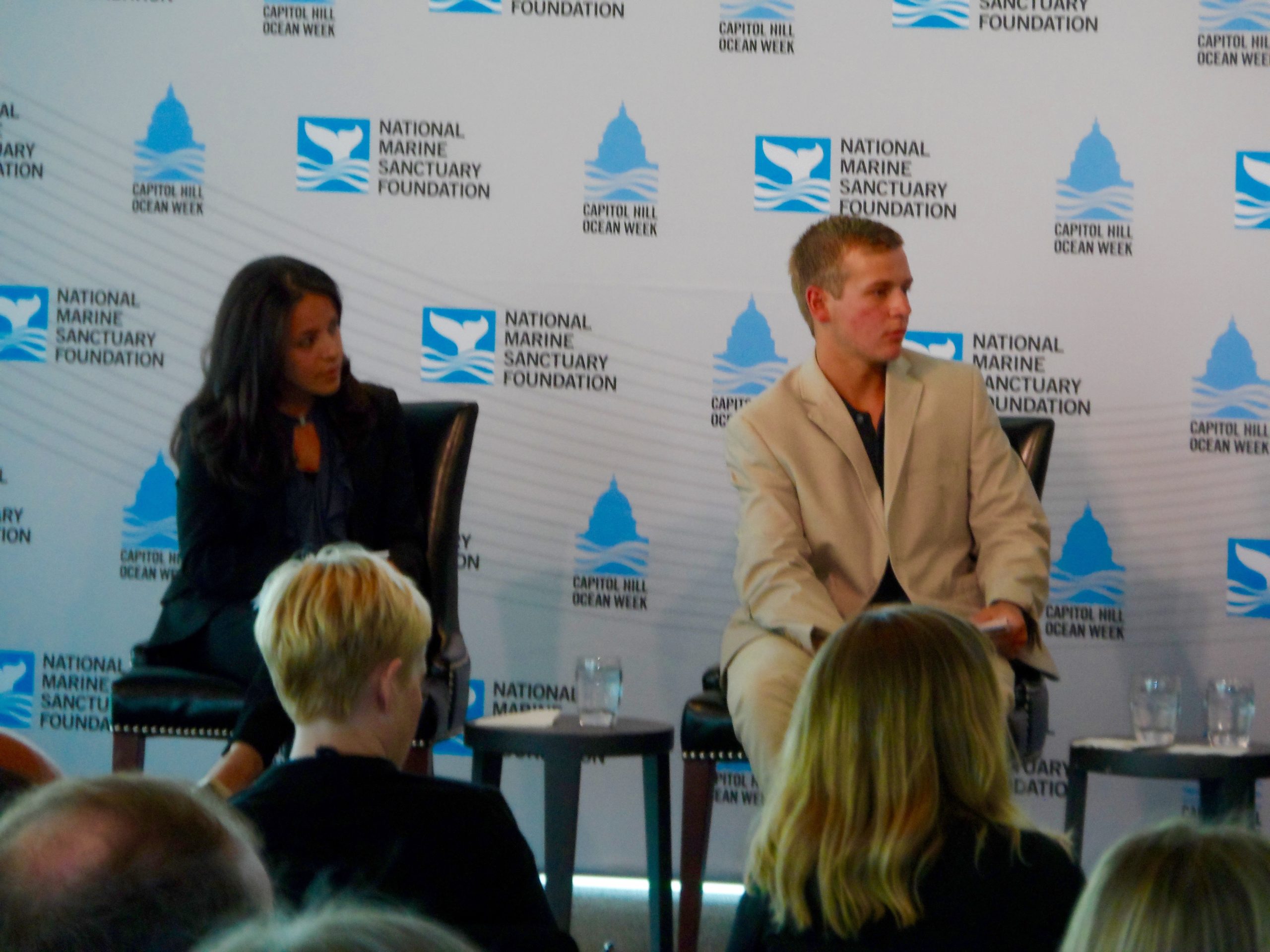 Some day hope to work for them.   After leavng NOAA we attended a conference "The Wave of the Future: What do the Youth of America Think?" which one of our SCUBAnauts Cole (pictured left) was chosen to participate on the panel we are very proud of him. Our next meeting was with Senator Whitehouse from Rhode Island he has a real passion forOcean conservation. We shared divingexperiences and our work with MOTE. We spoke about national Ocean Policy Council, Senate Ocean Caucus and updates on the Magnuson Stevens Act.
Our last day was spent in the National Mall area at the Smithsonian National Museum of Natural History. We had early access to view the Ocean Portal it was great to look at all the exhibits. Ms. Frost and her team MarineGeo explained scholarships, internships and projects their working on. We had a unique experience and toured the coral archives. Working for the Smithsonian Institution would be a rewarding job knowing that millions of people look to them for past and future information. The highlights of my week were meeting Ryan Ono, Senator Whitehouse, Dr. Sylvia Earle and the Smithsonian Ocean Portal and Coral Archives. All of these opportunities would not have been possible without the SNI CHOW trip leader Keith Kolasa and the SNI adult leaders. Thank you very much I will have these memories for the rest of my life.
Taylor R.
SCUBAnuats: Senior Second Class — AAUS D-60