SCUBAnauts finish a week of diving in Honduras with some time spent in the village buying a well-earned soda.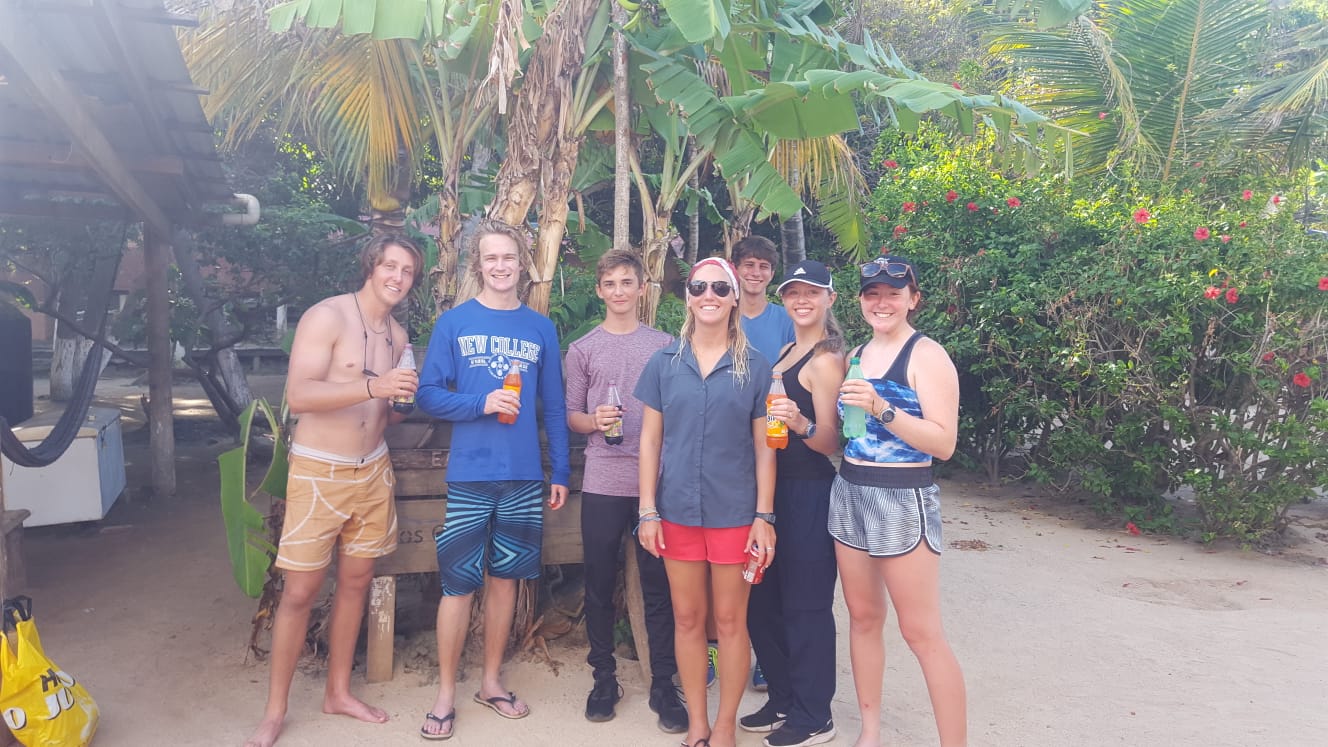 Preparing to Collect and Replant Staghorn Coral
This morning was our final day of diving. Before setting off, we were treated to a delicious breakfast of eggs, pancakes, bacon, and pineapple. Then we began packing our gear and preparing for the long day ahead of us. We had planned on assisting the local coral reef foundation to collect and replant staghorn coral (Acropora cervicornis). To execute our plan, we first left our island and headed to the foundation headquarters, located on the adjacent island Cayo Menor. Marcio, the foundation director, gave the SCUBAnauts (as well as one brave soul from New College) a briefing on the work we were about to do underwater. We also practiced zip-tying coral on a structure similar to the ones we would be working on underwater. Little did we know, practice does not always make perfect.
Turbulent Conditions for Coral Collection
Afterwards, we boarded the boat and travelled to a nearby reef to collect staghorns. The boat-ride was somewhat turbulent, and underwater was no different. With over ten people working side-by-side, it quickly became difficult to maintain neutral buoyancy and fight current. Some divers used sharp pliers to cut staghorn, and others collected and piled the pieces into designated crates. Despite the unfavorable conditions, we managed to collect the goal of sixty coral pieces.
Overcoming Adverse Conditions at the Nursery Site
We then surfaced and headed to the nursery site. Before re-entering the water, we briefly gathered with our groups and discussed work roles. However, our established plans were soon about to fall apart. We entered the even more tempestuous seas and descended to the nursery. After attempting to maintain our roles of zip-tying coral, tagging, and recording, it became evident that our master plans were not working effectively.
Adapting to a New Plan, Underwater
Nauts assumed each role that needed to be done, rather than the those previously assigned. At some point on the dive, every Naut was either zip-typing, tagging, or recording (maybe even multiple at once). Not to mention that the strong current made precision tasks like zip-tying extremely difficult. Our new method proved efficient, and we finished planting all sixty coral pieces with time to spare. Some Nauts spent the extra time cleaning off the nursery structures to prevent macro-algae growth, which harms the coral growing there.
Island Time
After the dive, Marcio expressed his appreciation and amazement for the Nauts' ability to perform difficult work like coral planting despite the conditions. We dropped off the Foundation representatives at their outpost and headed back to Cayo Grande. For lunch, we had delicious pizza and vegetables. After some rest, we ventured to the local village for some island time on the opposite end of the island we are staying at. There, we played with some of the village dogs, visited a school, and met a few children. A few hours later, we had dinner and began packing our luggage for our trip back home.
SCUBAnauts Rock Honduras
This was our last full day on the island, and we are all reluctant to leave such a beautiful and fun place. It may be nice to have a hot shower and bug-clean rooms, but nothing will beat the late-night eagle ray and bioluminescence spottings, snorkeling for hours on end, and playing fetch with Nadine (island puppy) with a rock. Yes, a rock.