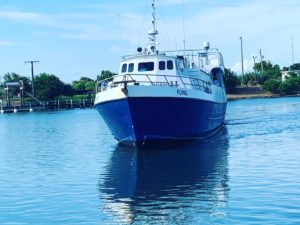 The Last of Five Summer Trips
SCUBAnauts have been busy this summer. We conducted research in the Florida Keys,  Honduras, North Carolina, and advocated for our oceans in Washington, D.C.  For the fifth and final summer trip of 2019, five other SCUBAnauts and I flew to Texas to conduct fish counts in the Flower Garden Banks National Marine Sanctuary.
Living on a Liveaboard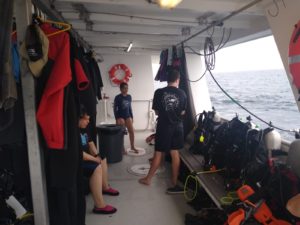 Because the sanctuary is so far offshore, we stayed on the liveaboard vessel M/V Fling for three days. M/V refers to the fact that it is a motor vessel, as opposed to a steam vessel, which obviously is rarely used these days. Often, SCUBAnauts dive off of a boat with R/V as its designation, which recognizes the boat as a research vessel. This trip to FGBNMS is different and staying on a liveaboard dive boat was definitely what made the trip unique and in my opinion, one of the best trips yet.
Different Accommodations
SCUBAnauts usually house in quarters separate from people outside of the organization, but aboard the Fling Charters vessel, there were many other divers whom we had never met before all excited to dive Flower Garden Banks National Marine Sanctuary. For several of the divers, this is a go-to spot year after year for excellent diving. It was fun to get to talk to other divers and hear their adventures. In my cabin it was three other divers and me. Everyone was very sincere and respectful of one another, so it was not a hassle at all. Each cabin had four beds (two stacked on top of each other like bunk beds, but built into the wall) and there was a total of eight cabins (all of which were full). Every person had an individual bed with a reading light above it and privacy curtain.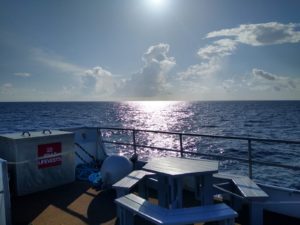 Liveaboard Lounging
Over all the boat was small and had tight corridors and many passengers, but it never felt clustered because of the many places to hang out. The sun deck was one of those places, located on top of the boat with a stair case leading down to the dive deck on the stern of the boat. On the sundeck there were bean bags, tables and sun chairs. Divers and crew relaxed and chatted in this comfy place. Most of the time the other Nauts and I pulled bean bags into a shady spot and napped during surface intervals.
Eating Like Hobbits
Thankfully galley was open 24/7.  We were served five meals a day, not even including snacks, so we never were hungry. Someone commented that we could eat like Hobbits with second breakfasts and elevenses as meal options. Five dives a day made us crazy hungry though, so we needed it!
Oddities at Sea (and Shore)
It might seem like the boat rocking back and forth would get annoying, but it was actually really nice and never got inconvenient. One of the weirdest parts of the trip was actually back on shore. We were so used to being on board a boat rocking at sea, that when we got off, we still felt the boat rocking and couldn't walk straight for two days. Over all it was a great trip. I really hope SCUBAnauts dives Flower Garden Banks National Marine Sanctuary again in the near future so more Nauts can experience what it's like to stay on a liveaboard vessel.