"Education Through Exploration: SCUBAnauts Support Reef Restoration Project"
By: Keith Kolasa, SCUBAnauts Science/ Education Outreach Coordinator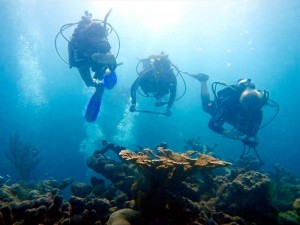 SCUBAnauts International (SNI) was established to expand and promote STEM related opportunities for young and emerging explorers by directly engaging them in marine sciences through underwater exploration and research activities, such as special environmental and undersea conservation projects that educate, promote active citizenship, and develop effective leadership skills. Formed in 2001, the organization consists of a diverse group of young men and women (ages 12 – 18) mentored by volunteers from the University of South Florida, private sector corporations, and state agencies.
Dive safety is of upmost importance with annual re-certifications required in rescue diving, first aid and CPR for professional divers, oxygen provider, and swim tests. SCUBAnauts International is a member of the American Academy of Underwater Sciences (AAUS) and operates under the AAUS science research diving standards, with all dive missions requiring review and approval of a diving control board. Education in marine biology takes place in both classroom and underwater with routine dives in the Gulf of Mexico. On these local dives the 'Nauts learn fish and coral identification and reef assessment methods. The overall motto of SNI is "Education through Exploration" with priority placed on engaging the youth in as much diving as possible in order to foster a lifelong connection with the underwater marine environment. This program offers real field experience to youth interested in careers in marine biology and environmental service or simply interested in the undersea environment.
The 'Nauts' training in dive safety and reef ecology is put to the test during summer science expeditions, where the 'Nauts apply the skills they learned in the Gulf to reef systems within the clearer waters of the Caribbean including trips to the Bahamas, Belize, Jamaica, and the Florida Keys. One of the most meaningful summer expeditions has been participating in coral reef restoration projects in the Florida Keys. For the past three years these youth divers have had the exciting opportunity to learn about coral reef restoration methods at the Mote Marine Laboratory Tropical Research Station and to learn first-hand on the process of growing corals and out-planting them to reef restoration sites. Through a partnership with Mote Marine Laboratory, SCUBAnauts International assists with a number of reef restoration projects providing the 'Nauts with hands-on training that not only challenges them to become better scuba divers, but also engages them in underwater team work. Being involved in this project provides invaluable education on the importance of reef systems and ocean conservation.
Read the rest of the article here: http://digital.ecomagazine.com/publication/?i=269674 (pages 44 – 49)