I never imagined a summer SCUBAnauts trip would completely change my life goals. In all honesty I was kind of nervous since I hadn't met most of the other Nauts before departure day. But there's something about scuba diving that brings people together! The group of 15 of us from varying chapters met at MOTE in Key Largo for an unforgettable week of research, diving, and learning.
Our first task assigned to us was our research project that started before our trip even began. My group's duty was to complete a benthic survey on dead, live, and newly formed coral. In order to complete this we had multiple dives over three days to survey corals. We layed out a transect line that had zip ties, which we affectionately refer to as the duct tape of the sea, to help us mark what coral was growing under our line.
On our first dive my partner and I set to laying out the line, which is much easier practicing on land than it is to accomplish underwater! It was difficult to communicate underwater to tell the other person what to do. It usually ended up with someone shoving something into the other's hands and trying to sign what to do or writing it on our slate. As the days went on we got better at communication during our dives to ensure we got the data we needed for our project. Unfortunately, while giving our presentation we found out that the data had to be scrapped. This was due to an error made in our pre-dive data. This was really disappointing, but a diving research lesson we all learned from.
The next part of the week is when I realized my love for diving could turn into a career. We had several science lessons on coral fragging, which is the process of cutting old coral to help it reproduce. On our dives in the coral nursery we not only got to frag corals but also hammer in new anchors for coral trees. Being on the bottom of the ocean to help the future health of coral and our ocean as a whole was an unforgettable experience.
Towards the end of the trip we had an opportunity to partake in a once in a lifetime experience. We teamed up with the Combat Wounded Veteran Challenge for a Navy base tour and diving contest. Being able to see the Navy base was not only informative but just really cool! When we took to the water for the diving challenge each Naut was assigned a veteran partner. We boarded the boat and dropped off to complete a 500 yard swim to the shoreline. When the air horn blew each team descended with the goal to make it to shore as quickly and accurately as possible. Conditions were murky and rough. The biggest challenge was sticking with your partner and navigating through the challenging seas. At the end of the day we all reconvened in Key West for a meal. This gave us the opportunity to recap the dive and our adventures during this challenge.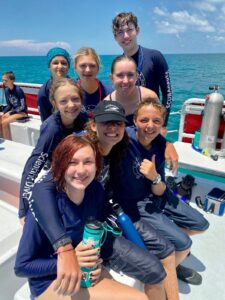 As the week ended it was hard to say goodbye. We had spent nine days fully immersed in each other's lives. Even though we had a lot of work and learning to do we still snuck in some fun time. Some highlights were kayaking in the MOTE Canal, late night girls hot potato competition in the bunk room, card games, and jokes about where people fell asleep post dive. This trip not only gave me an educational experience but unforgettable memories.
–Brooke B., Naut-in-Training, Sarasota Chapter