"From birth, man carries the weight of gravity on his shoulders. He is bolted to earth. But man has only to sink beneath the surface and he is free."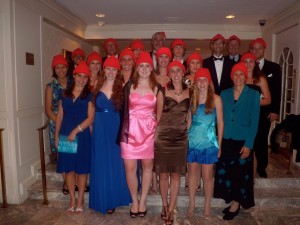 While in DC, the SCUBAnauts had the opportunity to attend the National Marine Sanctuary Foundation (NMSF) Awards Dinner. This year's dinner was especially significant as it marked the 10th anniversary of the NMSF as well as the 100th anniversary of Jacques-Yves Cousteau's birth. We spent the first part of the evening mingling and conversing with the other guests at the dinner. We had the opportunity to meet many new people as well as reunite with old friends. Most notably we met Jean Michel, Fabien and Phillipe Cousteau, Bob Ballard, and many other notable people within the world of oceanography. Upon sitting down at our table we saw that everyone received a red cap, similar to that of the famed red hat of Jacques Cousteau. We all celebrated his legacy and his dream by donning our red caps in the presence of his family.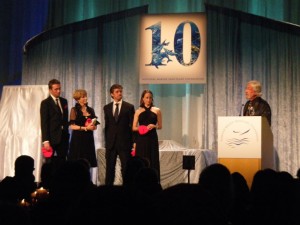 At the NMSF dinner, we met Jean Michel Cousteau in person. He was a really interesting person to meet. He was one of the people that spoke at the dinner. He did not like the tragedy of the oil spilling into our ocean. We talked to him about the oil spill and ocean conservation. It was a really exciting experience.
At the National Marine Sanctuary Foundation dinner, we met Robert Ballard in person. He was a wealth of information and a very knowledgeable person. I am glad I met him. Robert B
allard was one of the people who found the Titanic after it sunk.
We met interesting people such as Jean Michel Cousteau who is the son of the inventor of the Aqua Lung, and Don Walsh who has gone the deepest in a manned submarine. All and all Capital Hill Ocean Week was a great experience and I would love to do it again.
Life is all about traveling down the road and adding a few stops on the way. Traveling to Washington D.C. was definitely a stop won to be remembered. The trip started out with the big "BANG" of fun in Capital Hill Ocean Science Week Award dinner. There I met the person who discovered one of the most interesting topics in my life; the R.M.S. Titanic Robert Ballard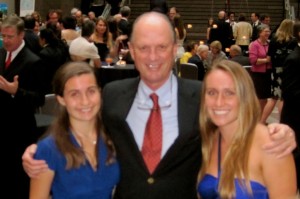 (I even got a picture!). I also met the Cousteaus and this too was an awesome meeting since I've done a project on Jacques-Ives Cousteau. However, one of my favorite things on this whole trip was getting to receive a red hat just like Jacques Cousteau and traveling on the metro! I've learned many things along this trip such as how to mingle with other important people, how to find ice cream in D.C., and most importantly; how to travel on the metro. I hope to go next year!
-Jessica Silk, St. Petersburg SCUBAnaut
Capital Oceans Science Week was a great experience that has really furthered my view of the science world. I was lucky enough to talk to Dan Basta, Director of the Office of National Marine Sanctuaries, and it was a real privilege. He was very nice and supportive of the education of young people. Then, I got to meet with Jacques Cousteau's son, Jean Michel, and his grandson, Fabien, both of which are genuinely nice guys. We were able to get into an intriguing conversation about the unfortunate event of the oil spill. He was quite upset of the horrible event but focused more about how to help the affected areas. He was very inspiring.
– Mary Silk, St. Petersburg SCUBAnaut
,