by Logan M.
Taking a ScubaNauts trip is the best way to get to know fellow Nauts. Last weekend I went to Miami to go shark tagging with 11 other Nauts. On the way down, we had three hours for me to get to know them. During those three hours we had some really interesting conversations about our backgrounds, and this allowed me to get to know more about the kids in my car. Then we stopped for lunch at a restaurant called Sea Watch, which had a dive site. While my group ate at this awesome restaurant that over looked the dive site and beach, another group went diving, with the trip leader. Sadly, for the diving group, the conditions ended up being less than ideal. The choppy water was riddled with jelly fish. These challenging conditions forced the first group to cut their diving adventure short. It was decided that it would be best for the group to return to shore and to cancel the second dive. The time I spent at the restaurant and on the beach allowed me to get to know my fellow Nauts better. By the time we got to the hotel, I knew around half the group fairly well and felt comfortable with them.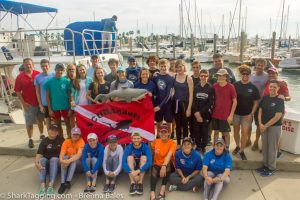 The next day, we got up at six forty-five and hit the road to meet up with the University of Miami Shark Tagging Team. When we got to the marina, we were sad to see what we thought was a dead manatee. Luckily, it surprised us by moving and going subsurface. The way the other Nauts reacted showed me how much they cared about nature. A few minutes later we were gliding through the waves on the shark tagging boat. This is when the big adventure began! The Scubanaut group was divided into three shark tagging teams. We threw out drum lines with barracuda on them and floats on the end, and we got to help pull in the lines to check for sharks. The very first buoy caught the first shark of the trip which was a nurse shark, and everybody was shouting and smiling. The whole event was full of joy as the first group walked out and did measurements and tagged the shark.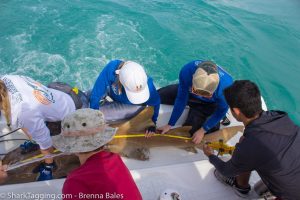 Everyone worked really well together to make this shark tagging experience a success. After tagging the first shark and sharing concern over the "dead" manatee, I knew why I had wanted to be with this group so much. They are fun, and they care about nature! That day we caught six other sharks, one of them was a beautiful tiger shark. This was an amazing trip, because it helped me to get to know kids that aren't in my chapter and allowed me to make new friends, while working to preserve our marine environment.