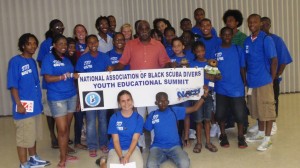 I recently chaperoned three SCUBAnauts, Mary and Jessica Silk (St. Petersburg Chapter) and Ashley Hilbert (Tarpon Springs Chapter) to attend the 7th Annual Youth Education Summit for the National Association of Black Scuba Divers (NABS) in Florida City. This 5 day summit was in conjunction with NOAA, Office of National Marine Sanctuaries. There were close to 50 youth and adults in attendance. Our NOAA guide for the week was Kathy Sakas (Education Coordinator Gray's Reef National Marine Sanctuary) and her knowledge of the Keys history and Sanctuary Ecosystems was a constant source of information. Other NOAA educators were Mary Tagliareni (NOAA-Florida Key National Marine Sanctuary) and Timothy Runyan, PhD (Maritime Heritage Program). The youth attended a series of classes on coral reefs, fish identification, neutral buoyancy activities and underwater archaeology. There was a community beach clean-up day, we learned about the Miccosukee Indians and took an air boat ride and of course the youth had opportunities to snorkel and dive on various reefs.
We started our week with Mary Tagliareni giving a class on the Introduction to Coral Reefs followed the next day with an interactive demonstration of four types of instruments used in coral reef research. On Tuesday, the Youth had the opportunity to give back and clean the beach at Bahia Honda State Park. Everyone was issued a bag and glove to comb the beach for trash. Kathy Sakas came back with a collection of trash and turned it into a mini hands-on demonstration for the Youth to see how harmful litter can be to marine animals. Later that evening, the Youth attended an Ocean Science Technology presentation and were taught how to build a Neutral Buoyancy object. Every summit has a fun day and Wednesday was it. We traveled to Key West for a Behind the Scenes Underwater Archeology tour with Corey Malcolm, an archaeologist with the Mel Fischer Museum. The Youth learned how artifacts found in ocean waters are preserved for historical museums. We met up with Mary Tagliareni again and had a tour of the Eco Discovery Center, a very interactive museum open to the public. The evening was topped off with time at Malory Square, a place where local artists sell their art or perform street acts.
Thursday and Friday were primarily snorkeling and diving days. Our SCUBAnaut Youth were able to log four dives; unfortunately due to very windy conditions Aquarius on Key Largo was not possible. Dr. Chris Moses (SCUBAnauts Dive Safety Officer) was able to join the divers the last day and observe their diving skills. The week culminated with a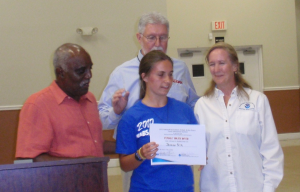 banquet. The guest speaker was Dan Orr, president of Divers Alert Network (DAN). Various awards were given out to Youth participants and SCUBAnaut Jessica Silk was awarded Female Youth Diver. Her award is a testament to the character building and active citizenship promoted in the SCUBAnaut program. Overall the week was jam packed with substantive educational and water opportunities.
~Midge Silk, St. Petersburg Chapter (Adult Leader)
My experience at the NABS/YES Youth Summit was very rewarding. I was able to speak to very inspiring individuals that have an immense love for the ocean and all the animals in it. Mrs. Kathy Sakas was very nice and I'm so grateful to have been able to learn from her. Where ever we went she always had useful information.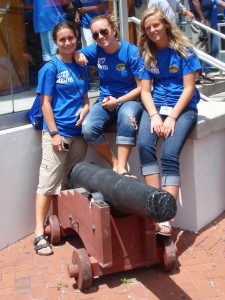 One time when we were doing a beach cleanup she collected the weirdest things that were washed up on the sand and even though we were staring at this stuff all day searching for trash I never really stopped to think what that stuff was.
On this trip we were immersed in cultural history, when we toured the Mel Fisher Museum and the Cemetery. We learned about the lives of people during the Middle Passage and how they were treated once they reached Key West. We also got to experience the tourist attractions such as the cat guy who lost a couple of his marbles. We were able to do a couple of dives but the people from the NABS organization really made the trip a fun and rewarding experience. I made some real great friends that I hope to keep in touch with.
~Mary Silk, St. Petersburg SCUBAnaut