SCUBAnauts International (SNI) offers guided learning by discovery. With each new exploration, we step into an unknown and exciting experiences. The uniqueness of the SNI program is it's focus on the young men and women in the program. Our activities center around leadership, community service, social interaction, fitness, environmental science, and citizenship. Through regular monthly marine research SCUBA dives on artificial reefs and other underwater research sites, classroom participation, small group project leadership, extraordinary summer marine research expeditions, field trips, weekend diving excursions and valuable one-on-one mentorship with notable marine research biologists and other adult leaders, we are learning leadership skills that will be beneficial to us the rest of our lives and make us better stewards of our environment.
Current Scientific Projects:
Combat Wounded Veterans Challenge
Since 2011, SCUBAnauts and the Combat Wounded Veterans Challenge (CWVC) have collaborated in the Florida Keys with navigation training and MOTE coral transplants. The nauts are given several days during a week-long expedition to interact with U.S. Veterans recovering from ailments caused by foreign wars (PTSD, loss of limbs, etc.). Each year, these American heros say that they themselves are not the heros, but the teenage SCUBAnauts whom provide them hope and integration back to society.
SCUBA Lifesaving & Accident Management (SLAM)
In SCUBAnauts, safety is critical in providing youth with an active learning environment. Since SNI's beginnings, SCUBA Resuce training, known as SLAM, has given youth members world-class rescue training from dive safety professionals across Florida. This training reinforces and develops skills learned in advanced SCUBA courses and continues the rescue diving skills of our members.
MOTE Coral Transplanting
SCUBAnauts play a crucial role in supporting MOTE Marine Laboratory and their Coral Restoration Program in the Florida Keys. Beginning in 2011, SNI and MOTE have collaborated to transplant endangered coral species like Acropora cervicornis (Staghorn Coral). By helping these efforts, SNI supports its mission of marine conservation and activism.
Reef Ball Monitoring
In 2014, SNI secured funding from a new artificial reef project in the shallow waters of the Gulf of Mexico, off the coast of Hernando County. This grant gives SNI the ability to continually monitor the reef balls for changes in coral, sponge, and algal recruitment on the new reefs.
Community Outreach
One important aspect of the SCUBAnauts program provides opportunities youth to educate their community about marine science.  SCUBAnauts demonstrate data collection methodologies employed during their coral reef monitoring activities to the public each year at the St. Petersburg Science Fair each fall.
Past Programs:
Aquarius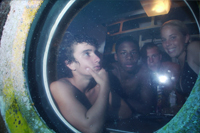 Aquarius Underwater Habitat is located off the coast of Tavernier in the Florida Keys at 60 ft of depth. It serves multiple purposes of scientific research, NASA astronaut environment training, and development of new marine technologies. SCUBAnauts visited Aquarius in 2003, 2004, and 2007 and a select few nauts entered the habitat to speak with researchers and scientists living in Aquarius.
Operation: Deep Climb
In October 2007, SNI embarked on a 10-day expedition in Hawai'i to summit the world's tallest mountain, Mauna Kea; the endeavor was known as Operation: Deep Climb. The Operation included three-phases: (1) Exploration of the deep sea along the undersea slopes of Hawai'i, (2) climbing the summit of Mauna Kea, and (3) the extension of the mission to the International Space Station (ISS). To begin, eight 'nauts hiked the 13,786 ft summit traveling through habitats on Hawai'i, only found on the remote island. Following the mountain climb, two nauts entered Pisces IV and Pisces V submersibles to visit Japanese midget submarines sank during the Pearl Harbor attach in 1941. The mission concluded as Lt. Dominic Gorrie aboard Space Shuttle Endeavor (STS-123) video-chatted with SNI aboard the ISS in March 2008.
U.S. Army Special Forces
SCUBAnauts conduct underwater navigation training operations with America's elite Army Special Forces and Navy SEALS, and hone their land survival skills with US Air Force survival instructors in the wilderness of an Air Force survival range.
Gulfstream Natural Gas Reef Monitoring
The first project SNI supported required SNI divers to record changes in bottom type on newly designed artificial reefs in the Gulf of Mexico and Tampa Bay. With support from the University of South Florida and the Florida Fish & Wildlife Commission, SNI was able to establish a presence in research diving since 2001.
Habitat Monitoring
The SCUBAnauts train with notable marine research scientists to collect and record data such as temperature, salinity, turbidity, and other data parameters on a series of artificial reefs in the Tampa Bay and Gulf of Mexico, as well as more distant locations on the summer research expedition.